From May to July 2021, I spent 8 weeks in Costa Rica & only packed a carry on & personal item. Not only was I able to avoid expensive checked bag fees, but it also made my travel around Costa Rica a lot easier. After reading this, you'll have the essential skills to fight overpacking & enjoy your vacation with less stuff.
Before we start – none of the products mentioned in this post are sponsored. These are my authentic opinions!
I'll admit, taking only a carry on & personal item for two months was tough. On top of that, I was moving out of my apartment in Dallas, Texas at the time of my departure to Costa Rica. Ensuring I had everything was stressful, but when I got to Costa Rica, I realized I probably brought too much stuff.
So, what should you bring on your next trip?
The least amount of stuff as possible.
This is easier said than done. I practiced packing four times before I was able to fit everything in my carry on bag. And even after that, it was a tight squeeze. Here is everything in my carry on…
About 10% of these items, I purchased in Costa Rica.
To fight anxiety about "forgetting something" on your trip, make a list of items you need (phone, wallet, passport, prescriptions, etc.), pack some items, and buy the rest at your destination.
Tip
Bring two piece sets! With a floral two piece set (crop top & skirt), I made several different outfits for the beach, dressy, casual, etc.
Packing cubes or no packing cubes?
It depends. Packing cubes help me organize my luggage, but I don't believe regular packing cubes help you save space.
If you want to save space, I recommend purchasing compression packing cubes. My packing cubes are not compression.
I use the rolling method to fit my clothes into one large packing cube. My medium packing cube holds my PJs, hat, swimwear, and extra bags. Finally, my shoes, accessories, and miscellaneous items fit into the two remaining cubes. My toiletries and underwear are already packed. Here's what it looks like all packed up!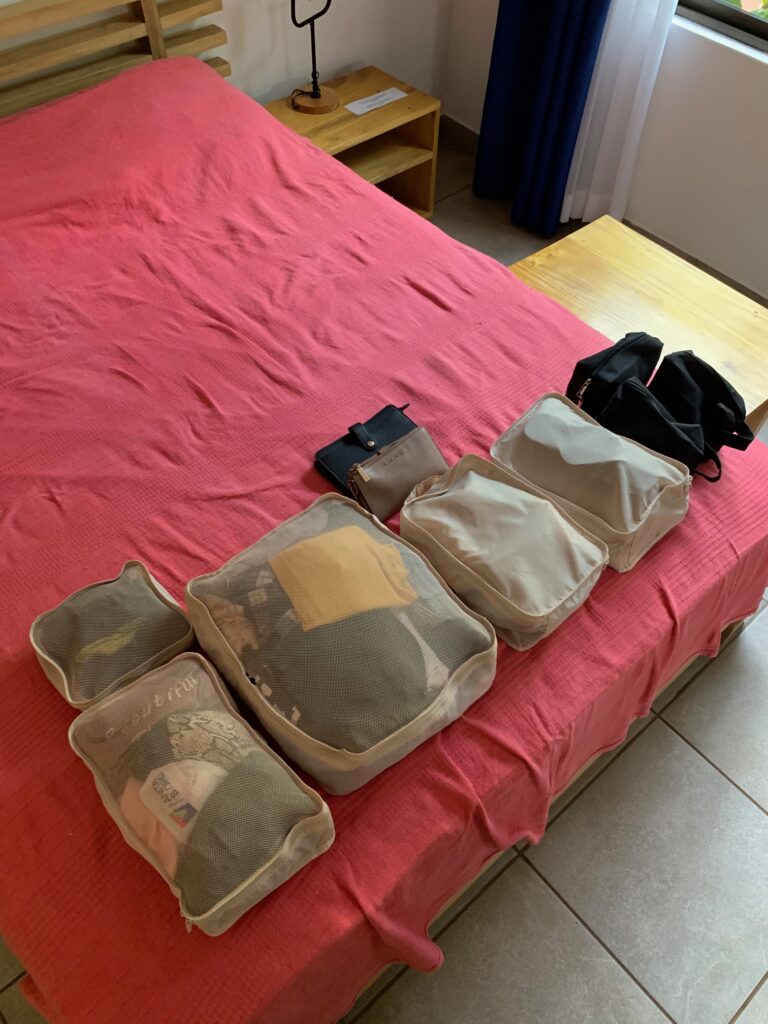 Tip
Use a combination of rolling and folding methods for your clothes. Roll bulky items and place them on the bottom. Once you have two layers of rolled items, fold thinner clothing and place on top.
My luggage is an Away Bigger Carry On. I highly recommend Away luggage (or Monos for a slightly cheaper option). It has built in compression, a strong zipper, a lock, and a lifetime warranty. Here's how it all fits in my carry on.
Tip
Place hard, flat items on the left side & soft items on the right. Only the right side can be compressed.
After compression, I'm ready to zip everything up!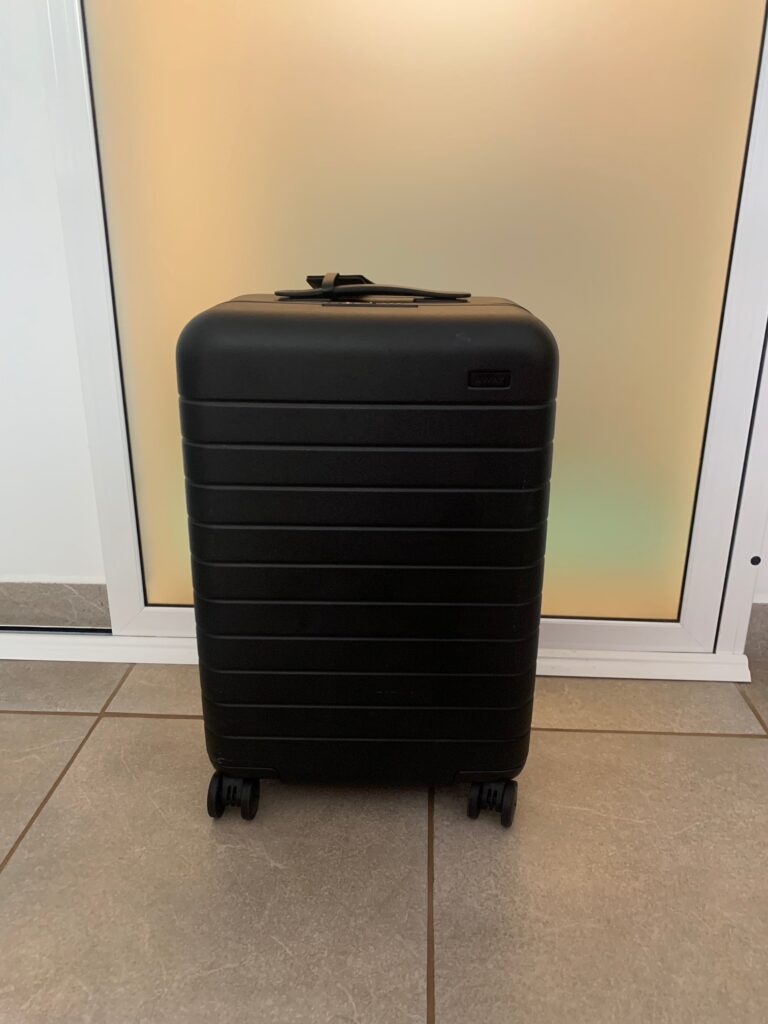 This luggage will fit in most overhead bins. On smaller, older, aircrafts you will need to check this luggage. It is heavy, but the wheels glide across the floor & there are several sturdy handles on the top & sides of the luggage for easy transport.
What about my personal item?
I was working remote during my trip needed a bag that would fit had my 16 inch laptop, a second monitor, and more (cords, chargers, book, etc.)
I purchased the Calpak Hue Duffle Bag & it worked perfectly as a personal item on the plane and large laptop bag for the office. There are so many pockets & compartments inside the bag. It was easy to slip some extra souvenirs in at the last minute. Here is everything I fit in my duffle…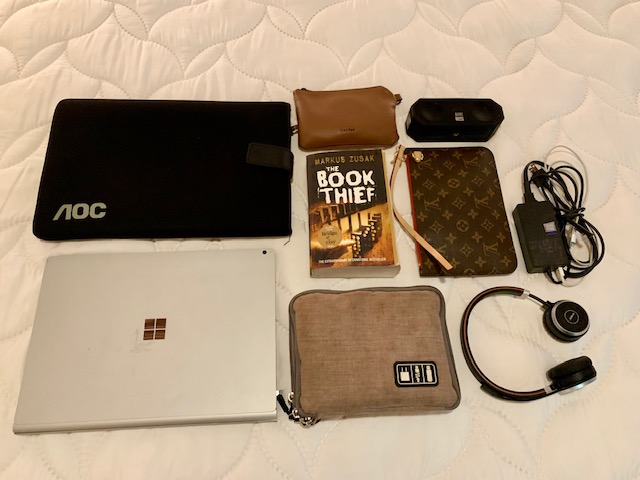 And the finished result!
Final Thoughts
There's no magical way to fit your entire closet into your carry on. Bring the least amount of items as possible & practice packing before leaving for your trip. You can always buy items at your destination so relax & get excited for your well-deserved vacation instead!
Also, invest in good luggage. A built-in compression mechanism & a strong zipper saved me from carrying my items in-hand through the airport.
If you'd like to schedule a 30-minute video chat for more packing tips & tricks, please contact [email protected]